Watch Video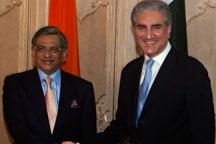 Play Video
The Foreign Ministers of India and Pakistan have begun talks to rebuild trust and confidence. It is the first time the two officials have met since the 2008 Mumbai terror attacks which killed nearly 170 people.
Pakistani Foreign Minister, Shah Mahmood Qureshi and his Indian counterpart, S.M. Krishna opened high level talks.
The hand-shaking in Islamabad comes as both sides seek to improve their strained relationship.
Officials say the two foreign ministers will work out the formalities of "restoring trust and confidence" in bilateral relations and pave the way for a "substantive dialogue" on issues of mutual concerns.
India suspended peace talks with Pakistan since the Mumbai attacks in 2008. It blames Pakistan-based militants for the assault. Krishna says he will press Pakistan on progress of the investigation into the attacks during his visit.
But a message of peace is the keynote.
S. m. Krishna, Indian Foreign Minister, said, "I am carrying with me a message of peace and friendship from the people of India and we hope to undertake this voyage of peace, however long and arduous, jointly with the government and people of Pakistan."
A Pakistani Foreign Ministry spokesman says all issues will be discussed and priority will be that the meeting leads to a sustained and uninterrupted engagement between the two countries.
Also, Pakistan will raise the topic of Indian-controlled Kashmir. But ahead of the talks, India says Kashmir is its internal affair.
The Indian foreign minister will also meet with Pakistani President Asif Ali Zardari and Prime Minister Yusuf Raza Gilani during his visit.
Contacts between Pakistan and India intensified in recent months, partly due to US pressure to reduce tensions in the region.
Many analysts expect little concrete progress from the meeting. But as Krishna says, the talks mark a new beginning.
Editor:Zheng Limin |Source: CNTV.cn