Watch Video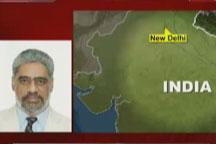 Play Video
For more analysis on the Indian and Pakistani Foreign Ministers' meeting, we're joined on the line by the editor of the Indian Express newspaper, Dr. C. Raja Mohan, from New Delhi.
Q1: Hello, Dr. Mohan. India and Pakistan suspended their four-year peace process following the 2008 Mumbai terror attacks. Why have the two sides chosen to meet now?
Q2: India insists that no real improvement in bilateral ties can come until Pakistan forcefully cracks down on the militant group Lashkar-e-Taiba, which has been linked to the Mumbai attacks. What is this meeting likely to achieve?
Editor:Zheng Limin |Source: CNTV.cn