Watch Video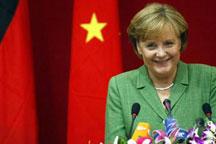 Play Video
This is German chancellor Angela Merkel's fourth visit to China since taking office. Many experts say bilateral trade cooperation will be a focus of Merkel's meetings here.
Without a doubt, this relationship is an important one.
And bilateral trade cooperation is one highlight of the ties.
China is Germany's largest trade partner in Asia. And Germany is China's biggest trade partner in Europe.
In 2008, trade volume reached one-hundred-15 billion U.S. dollars... more than the total combined trade volume between China and the UK, France and Italy.
Even during the global financial crisis, trade between China and Germany remained a quarter of the total China-Europe trade volume.
In 2010, the number is expected to increase to pre-crisis levels.
Eberhard Sandschneider, Director of Research of German Council on Foreign Relations, said, "German companies have invested a lot in China's market, this will bring an increase in trade volume for both countries."
Even more so, because Germany has the largest economy in Europe.
"The German-China relationship is a core relationship in the EU. Germany is China's most important trade partner in EU and China means a large market for Germany. At the same time, the relationship between the two countries acts as a model for all 27 countries in the European Union. Though every country has its own policies towards China." Eberhard Sandschneider said.
China is now keen to develop its green economy, to protect its environment and cut emissions.
And Germany, which has advanced technology in these fields, can provide more support to China through exchange and establishing joint-projects.
Trade cooperation projects on that front would benefit both countries.
Editor:Zheng Limin |Source: CNTV.cn