Watch Video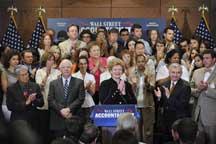 Play Video
The US Senate has passed the broadest overhaul of U.S. financial regulation since the Great Depression by a vote of 60 to 39. It sets the stage for a new set of rules for Wall Street. U.S. President Barack Obama, who proposed the reforms more than a year ago, says he wants to sign the measures into law next week.
The House has already approved the bill, which tightens regulations across the financial industry in an effort to avoid a repeat of the recent financial crisis.
The legislation establishes new consumer protection, gives regulators greater power to dismantle troubled firms, and limits a range of risky trading activities in a way that would curb bank profits.
Senator Christopher Dodd was one of the author's of the legislation.
He said, "I can't legislate integrity, I can't legislate wisdom. I can't legislate passion or competency, but what we can do is create the tools and the architecture that allow good people to do a good job on behalf of the American public and that's what a bill like this is designed to do. I regret it can't give you your job back, restore that foreclosed home, put retirement monies back in your account, what I can do is see to it that we never ever again have to go through what this nation has been through."
U.S. Senetor Debbie Stabenow (C) hosts a press conference after a key vote on Wall
Street accountability legislation on Capitol Hill in Washington D.C., capital of
the United States, July 15, 2010. The U.S. Senate voted Thursday to end debate on
the historic financial overhaul, setting the stage for final approval of the
landmark legislation. (Xinhua/Zhang Jun)
The majority of Republicans oppose the bill, including Senator Mitch McConnell
He said, "The White House will call this a victory, but as credit tightens, regulations multiply and job creation slows even further as a result of this bill, they'll have a hard time convincing the American people that this is a victory for them."
Along with health care reform, it's the second major legislative victory for the Obama Administration.
Austan Goolsbee, White House Economic Advisor, said, "I think when people find out what is in the bill they will be extremely pleased."
The new law will set up a council of regulators run by the U.S. Treasury which will monitor big-picture risks that regulators missed ahead of the past crisis.
Editor:Zhang Jingya |Source: CNTV.cn