Watch Video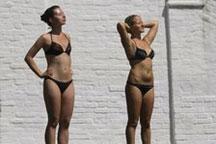 Play Video
Parts of Europe are baking in a heatwave as summer temperatures soar in Poland, Russia and Italy.
However in Germany temperatures have been cooled down by strong winds and small tornados.
Locals and tourists thronged the beaches on the eastern Polish coast, while in Warsaw, sprinklers were set up in a public square to help people stay cool.
The high temperatures caused road surfaces to melt in some areas, leaving holes filled with liquid in the asphalt.
In Moscow the temperature has risen above 30 degrees Celsius almost every day for the past fortnight, which is quite unusual for the Russian capital.
Animals in city zoo were inactive and sleepy, especially the polar bears, Bengal tigers and other creatures not used to the heat.
In Rome on Thursday, hot weather sent tourists flocking to the city's famous fountains.
At noon local time, the temperature in Rome reached 37 degrees Celsius. It's expected to rise as high as 40 by the end of July.
Germans were able to enjoy a short break from soaring temperatures on Thursday.
But the cooler air came with some heavy lightning and strong winds causing damage mainly in western parts of the country. The strong wind uprooted trees, and crushed cars.
Georg Binn, Head of Fire Brigade, said, "In total about 200 incidents were caused by falling trees or roof tiles, the damage came with a warning. A weak tornado blew over Goch and caused a lot of damage."
Germany's Meteorological Office says a cold front crossing over Germany caused the weather change, but not for long. The weather forecast for the coming weekend predicts more heat to come, along with strong winds.
Editor:Zhang Pengfei |Source: CNTV.CN