Watch Video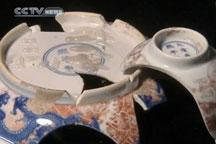 Play Video
150 years after western powers burnt down the Old Summer Palace in Beijing, 150 cultural relics preserved in a storehouse at the imperial garden, are being given a whole new look.
So far, the first batch of 20 porcelain pieces have been restored, after archeologists mapped out the best methods for restoration.
On Thursday, a team of archeologists held a meeting to verify the restored relics at the Old Summer Palace relics protection base.
With its enchanting gardens, the palace was once one of the world's most beautiful parks. In 1860, an alliance of western imperial powers burned the palace grounds.
The first 20 porcelain pieces survived the sacking, and have been repaired in three different ways.
Restoring these shards to their original beauty will not be an easy job. But archeologists say the most difficult task is to restore the relics, while maintaining the violent history they endured.
Professor Qin Dashu, Peking University, said, "The restoration should uphold the principles of keeping both the relics' aesthetic value and their fractured side, for Yuanmingyuan particularly. When those relics are restored and displayed, people can know the history through their damaged parts."
After careful analysis, archeologists chose the best method to restore the relics.
Apart from the first batch of 20 porcelain pieces, the other fractured relics will be restored by filled gaps with casting mould.
An exhibition of the repaired relics officially opened at the Old Summer Palace on Friday, and will run until October the 18th.
Editor:Zhang Pengfei |Source: CNTV.CN