Watch Video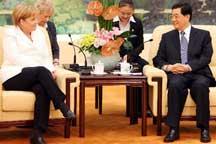 Play Video
We begin here in the Chinese capital, where President Hu Jintao has met with German Chancellor Angela Merkel. Earlier this morning, Premier Wen Jiabao also held talks with Merkel at the Great Hall of the People in Beijing.
Wen and Merkel exchanged views on bilateral and international issues in a friendly and candid manner. Wen encouraged Germany to join China in building a comprehensive, strategic partnership covering politics, economics, and culture.
He added Europe would continue to be one of the main markets for China's foreign exchange reserves. Merkel said China's response to the global financial crisis has been effective and created opportunities for other economies.
She notes Germany, like China, also adopted stimulus measures and said both countries need to discuss what can be done to overcome the crisis. She also said a joint communique to be signed during the visit will establish regular bilateral meetings.
Merkel pledged to promote recognition of China's market economy status within the European Union. During Merkel's fifth stay in China, she will also meet with Chinese Vice President Xi Jinping.