Watch Video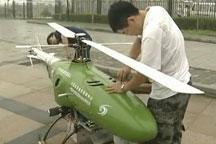 Play Video
Earthquake rescue robots have undergone their final tests in Beijing. Their designers say with these robots, rescuers will be able to buy more time to save lives during an earthquake.
This robot resembling a helicopter, is called the detector-bot. At about 4 meters long, it took about 4 years to develop the model. Its main functions are to collect information from the air, and deliver goods of up to 30 kilos, to people trapped by an earthquake.
This robot is equipped with a high definition 360 degree panoramic camera. It can work day and night and will also be able to send the latest images from the quake area.
Dr. Qi Juntong, Chinese Academy of Science, said, "The most important feature of this robot is that it doesn't need a remote control. We just set the destination info on it, then takes off, navigates, and lands by itself. It flies as high as 3 thousand meters, and as fast as 100 kilometers per hour."
This robot has a different function, dubbed the debris-crawling bot. It can transform as the environment changes. Its main job is to search for any signs of life in places where human rescuers are unable to go.
The 40 centimeter long robot is equipped with an infrared camera that can work in the dark, as well as a detector that not only finds victims, but can also detect poisonous gas.
Another asset for the rescuers is the supply bot, with its 10 meter long pipe. People who are trapped in the ruins, will be able to get supplies including oxygen and liquids.
Experts have confirmed that the robots will enter batch production, and serve as part of the national earthquake rescue team as soon as next year.
Editor:Zhang Pengfei |Source: CNTV.CN