Watch Video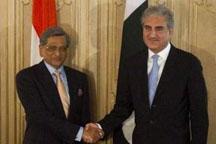 Play Video
The meeting of foreign ministers from India and Pakistan has concluded. This comes after a long interval, when dialogue between the two nations came to a halt after the Mumbai attacks. Our correspondent Danial Khan has more details from Islamabad.
The three-day trip of the Indian external affairs minister has been undertaken in pursuance of the mandate given by the Prime Ministers of India and Pakistan, during their meeting at Thimphu in April 2010, to work out the modalities of restoring confidence in the relationship and to pave way for a substantive dialogue on issues of mutual concern.
According to foreign minister Shah Mehmood Qureshi, there was a long series of discussions with his Indian counterpart S.M Krishna on major issues of concern.
Both sides presented their concerns on their specific issues.
Qureshi said that in his discussions with Krishna, there was a detailed discussion on issues that include terrorism, Kashmir, Sir Creek and Sia Chen.
But the primary concern remained the Kashmir Issue.
Shah Mehmood Qureshi, Pakistan Foreign Minister, said, "We took up the Kashmir issue. I raised the issue of human rights violations, curfews, and interference of Indian forces in the valley"
Krishna's worry remained terrorism, which, according to him is emanating from the Pakistani soil and is pointed in India's direction.
S.M. Krishna, Indian External Affairs Minister, said, "I'm going back with the assurance of highest level of political leadership on Mumbai Attacks. FBI's leads of Headley have given out and the government of India also got information from him and we have conveyed it to Pakistan. If it could help to unravel the conspiracy, perhaps that could be the biggest confidence building measure."
Both sides agreed to take steps that would build and restore confidence and face and eliminate mutual concerns and problems.
Experts believe, there is a need for creating opportunities of economic cooperation between the two countries that would also uplift the quality of living of the south Asian people and make the ties of both the countries even stronger.
Related stories
Editor:Zhang Pengfei |Source: CNTV.CN