Watch Video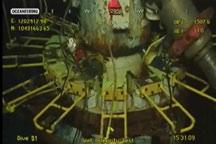 Play Video
The US federal point man for the oil spill disaster, Thad Allen, says BP's new cap is so far stopping the flow of oil from its broken well.
Allen adds BP's test of the cap, which started 24 hours previously, will continue for at least 6 hours. It is scheduled to last up to 48 hours.
He described the new developments as "generally good news," saying the crude would remain locked, but needs close monitoring.
Pressure readings from the cap have not reached the level that would show there are no new leaks in the well. Engineers are looking for evidence of whether there is an undiscovered leak.