Watch Video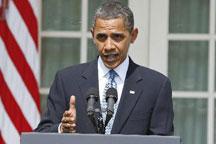 Play Video
BP says its capped-off well appeared to be holding steady on Friday morning. The news came midway into a tense waiting period during which engineers watched the pressure gauges for signs of a leak.
US President Barack Obama noted the progress, but cautioned an anxious public not to get too far.
President Barack Obama called the apparent success of BP's efforts to cap its ruptured Gulf of Mexico well good news, but underscored that the problem would not be resolved until relief wells had been completed.
Barack Obama, US President, said, "I think it is important that we don't get ahead of ourselves, here. One of the problems with having this camera down there is when the oil stops gushing everybody feels like we are done, and we are not."
BP said it finally choked off the leak from its deepsea well on Thursday, the first time it has managed to cap the flow since a blowout on April 20 killed 11 people and an environmental disaster for the U.S. Gulf coast region.
Barack Obama, US President, said, "We won't be done until we actually know that we have killed the well and that we have a permanent solution in place."
The leak has soiled hundreds of miles of shoreline, damaged wild life and shut down about a third of Gulf fisheries.
The spill has also been an uphill political fight for the Obama administration as the government works to respond to the crisis while area residents struggle financially in places like Venice Louisiana.
Mike Jeffcoat, Boat Captain, said, "You know as far as getting livelihoods back that's going to be down the road. We're going to have to heal the damage that's been done right now and get our publicity back out there to assure everybody that everything is great, back the way it used to be."
But any return to normalcy is still is likely to be in the distant future as many see the latest oil cap as just the beginning of the end of the worst oil spill in U.S. history.