Watch Video
Play Video
Premier Wen Jiabao says it's untrue to say the investment environment in China is worsening. The Premier made the comment as he invited more foreign companies to invest in the country.
On Saturday, Wen Jiabao and visiting German Chancellor Angela Merkel met the heads of prestigious German and Chinese companies in the northwestern city of Xi'an.
The World Bank in a July report gave China a low investment environment ranking.
But Premier Wen Jiabao says it's not true that China's investment environment is worsening.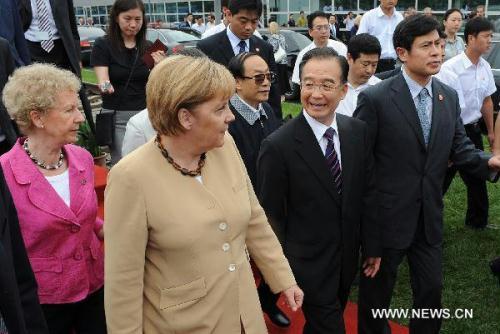 Chinese Premier Wen Jiabao and German Chancellor Angela Merkel visit Siemens Signalling
Company Ltd, in Xi'an, northwest China's Shaanxi Province, July 17, 2010.
(Xinhua/Jiao Weiping)
The amount of foreign direct investment that flowed into China in the first half of the year rose nearly 20 percent. The Chinese Premier says foreign money would not pour into the country if its business environment was worsening. On the contrary, he says China has relatively good infrastructure as well as fair and stable market environment.
Wen says China welcomes foreign companies which meet China's industrial policies, and will provide them national treatment as Chinese companies receive. Wen Jibao also promises that China would never block the export of rare earth minerals, a question raised by Germany.
This trade seminar follows China and Germany's signing of deals involving green energy, culture and a joint venture producing trucks.
After the seminar, Wen Jiabao and German Chancellor Angela Merkel visited a China-German joint venture, Siemens Signaling Company.
Editor:Du Xiaodan |Source: CNTV.cn