Watch Video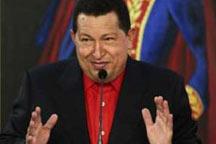 Play Video
Venezuela has called its ambassador home from Colombia for consultations to protest accusations by Colombia that rebel leaders are taking refuge in its territory. It is also warning it may break ties with Colombia.
Colombia says it has evidence that several leaders of guerrilla groups like the Revolutionary Armed Forces of Colombia, or FARC, are in Venezuela.
Specifically, Colombia says it has satellite images and the coordinates that show a top FARC commander has a camp in the west of the country.
Venezuelan President Hugo Chavez denies the charges, warning he may break relations with Colombia if it "keeps up this craziness."
Hugo Chavez said, "The Colombian government doesn't have one bit of proof but they've accused me of everything."
Chavez says such charges are part of a Washington-led plan to discredit him.
He says he will not accept an invitation to attend next month's inauguration of Colombia's president-elect, Juan Manuel Santos. He accuses the outgoing Colombian President Alvaro Uribe of trying to destroy the possibilities of a re-establishment in bilateral relations.
Hugo Chavez said, "What is happening is the result of the desperation felt by the right wing group that surrounds Uribe, and their attempt to generate great conflict."
Chavez also says his country is ready to improve relations with Colombia, but only if Colombia's new government respects it.
Editor:Du Xiaodan |Source: CNTV.cn