Watch Video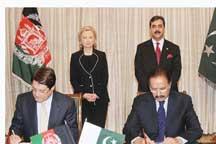 Play Video
Afghanistan and Pakistan have signed a transit trade agreement. The two countries will now allow landlocked Afghanistan to export goods to India through Pakistan's land route.
The deal was signed by the Afghan and Pakistani commerce ministers in Islamabad and witnessed by visiting U.S. Secretary of State Hillary Clinton.
Almost 50 percent of Afghanistan's trade is with its five neighbours Pakistan, Iran, Tajikistan, Turkmenistan and Uzbekistan. Trade between Afghanistan and Pakistan is worth more than $1 billion.
U.S. officials say the new deal will reduce average transit costs between the two countries by half, lower import costs and make exports more competitive, along with helping employment prospects on both sides of the border.
It is hoped more exports would help President Hamid Karzai counter a Taliban insurgency by improving economic conditions.The pact has to be ratified by the parliaments of both countries.
Related stories