Watch Video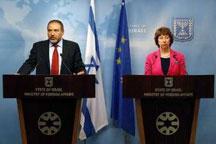 Play Video
The European Union's foreign policy chief, Catherine Ashton, has held talks with Israel's Foreign Minister Avigdor Lieberman.
This is part of a three-day visit to Israel and the Palestinian territories. Ashton has urged Israel and the Palestinians to begin direct peace negotiations on all final status issues, and stressed the importance of ending the blockade of Gaza.
Catherine Ashton, European Union's foreign policy chief, said, "The position of the European Union is clear. The blockade is unacceptable, unsustainable and counterproductive and not in the interests of any of those concerned. As I've discussed with Foreign Minister Lieberman, if we can be of value and the parties agree, we are ready to support a smooth handling of goods at the crossings based on the agreement on movement and access. I fully agree that Israel's security is of paramount importance in moving ahead."
Ashton is the most senior diplomat to visit Gaza since Israel announced earlier this month that it would relax its three-year blockade to allow most consumer goods into the coastal strip.
Israel continues to ban virtually all exports and restricts the import of badly needed construction supplies and raw materials for industry. And along with Egypt, it prevents most Gazans from travelling.
Editor:Zhang Pengfei |Source: CNTV.CN