Watch Video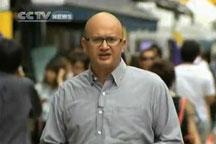 Play Video
One major topic of discussion at the conference will be recent attempts to find an HIV Vaccine. One of Thailand's leading HIV researchers is keen to show the conference that a vaccination is within reach.
Keeping a positive outlook on life. 36 year old Apiwat has been living with HIV since the mid nineties. He keeps the virus in check with a daily cocktail of pills…known as antiretroviral drugs.
For years these were not easily found in Thailand but with the advent of cheap licensing and imports, they are now available to all. Nonetheless, in his work as an educator about HIV issues, he often sees people turning to the treatment too late.
Apieat Kwangkaew, HIV Educator, Merch Center, said, "We have been fighting for the access to drugs and for social acceptance and its getting better. But there is still stigma, and it will take time to resolve this issue because we will be living with HIV for a thousand years".
And Thailand has been doing pioneering research into the spread of HIV/Aids. On the other side of Bangkok, Dr Supachai finishes his notes before he departs for the global conference in Vienna. He recently completed a six year drug trial in the search for an HIV vaccine.
While the results showed the drug was not completely effective, he says they prove a vaccine is a possibility, although it is probably still a decade away.
And he warns that other means of prevention, like education and condom use, must not be ignored.
Dr. Supachai Rerkngarm, Thai Ministry of Public Health, said, "HIV virus is a very clever germ. It can escape from many things, so we have to combine everything together so that can ensure that we are going to be safe from this clever germ".
But despite these optimistic signs, Thailand has seen a resurgence of HIV. 100% condom use, a policy that had proven effective in the past, is no longer as accepted as it was. And the virus is spreading once again in high-risk groups.
"After seeing off an HIV epidemic in the 1990's, Thailand is once again seeing a rise in infection rates, particularly amongst young people, who seem to have forgotten the lessons of the past".
But the activists who have been campaigning for better treatment and social acceptance will continue their work…and for them, the future is positive.
Editor:Zhang Pengfei |Source: CNTV.CN