Watch Video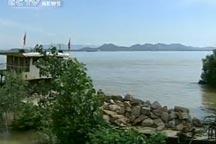 Play Video
Severe flooding has also hit the Jiujiang section of the Yangtze River in East China's Jiangxi Province. Two islands saw a bank burst alert on Sunday, as dikes were soaked in rising water for over a month.
It is the severest flooding in Mianchuan County in almost a decade, after devastating floods triggered three banks burst in 1998. Rising water levels have submerged many trees of the shelter belt outside the dikes. Authorities say the risks are now strong water currents, that could cause further damage to the banks, which are made mostly from sand. About 300 PLA soldiers from the Nanjing Military Area Command, have rushed to fix the problem, together with thousands of local residents.
Xu Wendong, commander of PLA Nanjing Garrison, said, "We've been using sandbags and stakes to reinforce the dikes, and block the water by building barriers at the areas where we see breaches."
Editor:Zhang Ning |Source: CNTV