Watch Video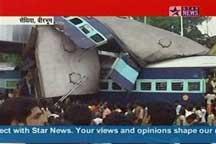 Play Video
At least 56 people have been killed, and more than 100 injured in a train collision in the Indian state of West Bengal.
A passenger train hit a stationary train at a railway station, early on Monday morning, while many of the passengers slept.
49 bodies have so far been recovered from the wreckage. One of the trains was at the Sainthia station some 200 kilometers from the city of Kolkata, when it was hit from behind by a speeding express train.
Officials said casualties could rise, as rescuers dug through the wreckage in search of survivors and bodies.
Some on board the train said the accident occurred as most passengers slept.
Police said the exact cause of the accident is not known, but they suspected that human error or signal error were the most likely reasons.
This is the second deadly train crash in the same Indian state of West Bengal since May 28, when a deliberate sabotage caused a collision, killing 150 people.
Related stories