Watch Video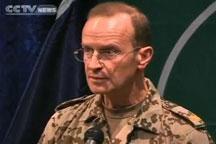 Play Video
NATO says it's intercepted a letter from Mullah Omar, the leader of the Afghan Taliban. In it, he calls on fighters to capture and kill Afghans working for foreign forces.
If genuine, the letter marks a turnaround from a directive by Mullah Omar a year ago when he urged fighters to avoid harming civilians.
According to a NATO spokesman in Afghanistan, the letter was picked up in early June. It contains five specific orders. One of them calls on Taliban commanders to fight foreign troops to the death.
A specific order in the letter calls on fighters to capture and kill Afghan women who are helping coalition forces.
The letter also instructs Taliban field commanders to recruit anyone with access to foreign military bases, in order to obtain information on international troops.
Since June, a total of 188 Afghan civilians have lost their lives in terrorist attacks. Most of them were killed by suicide or roadside bombs.
Related stories
Editor:Zhang Pengfei |Source: CNTV.CN