Watch Video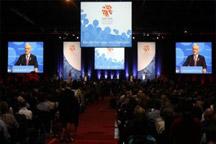 Play Video
This year's event in Vienna is focusing on expanding access to HIV prevention, treatment, care and support. Now for more on the International AIDS Conference and what the 25,000 people there are talking about, we are going live to James Chau in Vienna.
He is the UNAIDS Goodwill Ambassador for China. And,we have one prominent guest with James. He is Michel Sidibe, the UN under Secretary-General and also head of the Joint UN Program on HIV/AIDS.
Now let's cross over to Vienna to learn more about the key conference in fields of combating AIDS. Hi James, tell us what's been happening.
Editor:Yang Jie |Source: CNTV.CN