Watch Video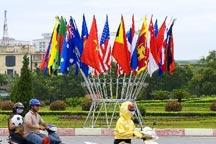 Play Video
ASEAN's Political Security Community Council has held its 4th meeting in the Vietnamese capital of Hanoi on Monday. Foreign ministers from the 10 member countries attended the gathering to discuss regional security issues.
At the meeting, the Foreign Ministers agreed to continue enhancing the role of regional arrangements to ensure peace and security in the region. They include the Treaty of Amity and Cooperation and the ASEAN Regional Forum.
They also vowed to make greater efforts to implement a plan of action for the Treaty on the Southeast Asia Nuclear Weapons-Free Zone.
The treaty which was signed by all ASEAN members in 1995, has expressed the region's desire to be nuclear free.
The Ministers welcomed the recent progress in regional political and security cooperation. This includes an agreement among the ASEAN members to the first Defense Ministers' meeting between ASEAN and dialogue partners in October.
The ASEAN meetings will culminate in the ASEAN Regional Forum on Friday.It's the Asia-Pacific's largest security dialogue. Foreign Ministers from China, Japan, the United States, Europe and Russia are expected to attend the meeting.
Editor:Zhang Ning |Source: CNTV