Watch Video
Play Video
China's top legislator, Wu Bangguo, has called on the international community to demonstrate confidence, enhance cooperation and safeguard peace by speeding up the process of realizing the Millennium Development Goals so they can become reality.
Wu Bangguo, chairman of the Standing Committee of the National People's Congress addressed the opening ceremony of the third World Conference of Speakers of Parliament in Geneva on Monday.
He said the implementation of the Millennium Development Goals - or MDGs - is now more important than ever due to the global financial crisis. He gave the participants three points on how and why the MDGs are so crucial.
Firstly, Wu said the impact of the global financial crisis must not erode confidence in achieving MDGs. But, he said the world should be aware that the MDGs and dealing with the crisis are not contradictory.
Secondly, Wu said that cooperation is an effective way to achieve the MDGs. The international community would achieve common interest if all nations share responsibilities.
He urged developed nations to honor their own commitments on official assistance, carry out debt relief and help developing countries to improve their own capabilities for development. He also called on developing nations to work harder to find better ways to improve the economy and eradicate poverty.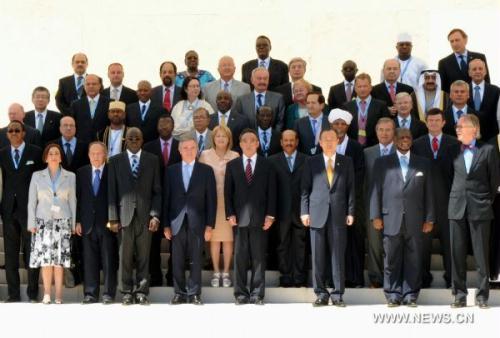 Wu Bangguo (4th R, Front), chairman of the Standing Committee of China's National
People's Congress (NPC), poses for a group photo with other participants of the
third World Conference of Speakers of Parliament held in Geneva, Switzerland,
July 19, 2010. (Xinhua/Zhang Duo)
Thirdly, Wu said safeguarding peace is the guarantee to realizing the MDGs. He noted all nations should observe the principles and purposes of the United Nations charter, and adhere to the new security concept of mutual trust and benefit, equality and coordination and to properly handle disputes and regional issues by peaceful means.
Related stories