Watch Video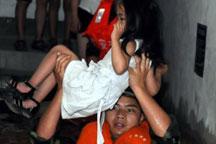 Play Video
Southwest China's Sichuan Province has experienced the heaviest rainfall this year. At least 23 people have been killed by rainstorm and flood related disasters.
This used to be a riverside road by the Qujiang River in Qu County. Now it lies under two meters of water.
Rainfall caused the Qujiang River to overflow. The water level of the river reached more than 19 meters since last Friday. Many streets are now flooded.
The busy commercial street is empty as residents and shops were evacuated before the flooding.
The flooding of the Qujiang River also devastated Guangan City. An emergency response mechanism was put in place before the rains to ensure the safety of the local residents.
Most people have been relocated, but rescuers continue to search streets for trapped residents.
All three roads leading to Ganluo County have been cut off by the heavy downpour. Power, telecommunications and water supplies have been cut off in some townships.
Rescuers and repair technicians were immediately mobilized to help relocate residents and fix damaged facilities.
Related stories
Editor:Zhang Jingya |Source: CNTV.cn