Watch Video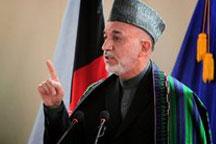 Play Video
Afghan President Hamid Karzai on Tuesday reaffirmed his commitment for Afghan police and soldiers to take charge of security throughout the nation by 2014 and urged his international partners to spend their money on Afghan priorities and long term goals.
Karzai spoke at an international conference on the future of Afghanistan where representatives of 70 nations and organizations were present.
Karzai said the transition of security to his government was a priority for him, along with getting as much donor funds through the government as possible.
Afghan President Hamid Karzai said, "We have confidence in the assurances of President Obama and other world leaders that lasting state to state partnerships in economic and security cooperation will extend beyond the short term. We are grateful for your generosity during these hard times."
He asked his international partners to channel 50 percent of their foreign assistance through the government within two years and urged them to align 80 percent of their projects with priorities that have been identified by Afghans.
The Afghan president was flanked by international diplomats including United Nations Secretary-General Ban Ki-moon.
Ban Ki-Moon, UN Secretary General, said, "The United Nations, and I personally, will do all we can to help build a brighter future for you and your children."
The conference comes at a critical juncture in a war against the Taliban. During the meeting police manned checkpoints throughout Kabul and blocked off major intersections of the city.
Related stories
Editor:Zheng Limin |Source: CNTV.cn