Watch Video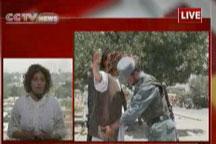 Play Video
For more about the Afghan donor conference in Kabul, we are now joined by Tamara Aqrabawe from the Afghan capital.
Hello, Tamara. Thanks for joining us.
Q1: During the meeting Afghanistan is expected to ask for 13 billion US dollars in aid. How does the government plan to spend the money on improving people's lives?
Q2: Afghan President Hamid Karzai reaffirmed the commitment to have Afghan police and soldiers take control of security in the country by 2014 and urged international partners to spend their money on Afghan priorities and long term goals. Do you expect the meeting to boost security in Afghanistan?
Editor:Zheng Limin |Source: CNTV.cn