Watch Video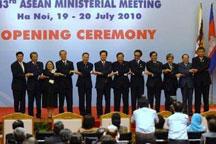 Play Video
Foreign ministers from the Association of Southeast Asian Nations have begun their annual meeting in the Vietnamese capital, Hanoi. They will tackle a diverse agenda - from setting up a European-style economic community by 2015 to bolstering ties with dialogue partners.
ASEAN foreign ministers will discuss preparation work for the 17th ASEAN Summit to be held in Vietnam in October.
They will also discuss the establishment of the ASEAN Community by 2015.
Nguyen Tan Dung, Vietnamese Prime Minister, said, "Realizing the goal of the ASEAN Community is the top priority for ASEAN now and in the years to come. We should set forth and carry out measures to speed up the implementation of the Roadmap for the ASEAN Community and other programmes."
The association is also expected to discuss the nuclear programme of the Democratic People's Republic of Korea.
Later this week the DPRK foreign minister is expected to attend a security forum in Hanoi with all members of the disarmament talks, including US Secretary of State Hillary Rodham Clinton.
Surin Pitsuwan, ASEAN Secretariat, said, "The North Korean issue, again I understand the ministers will make use or the chair will make use of the presence of the foreign minister of North Korea to engage in a discussion to see if the six-party talks can be given a new life."
ASEAN foreign Ministers are also expected to discuss the amendment of the Treaty of Amity and Cooperation in Southeast Asia. Some countries including China, India and the US have signed the treaty. Organizations such as the EU are expected to sign the treaty if the amendment is approved.
The four-day summit will also include meetings involving China, South Korea, Japan, and the US as well as the ASEAN Regional Forum.
Related stories
Editor:Zheng Limin |Source: CNTV.cn