Watch Video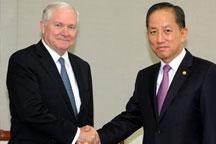 Play Video
The US and South Korea are scheduled to hold unprecedented high-level security talks involving top diplomats and defense chiefs of the two countries.
US Secretary of State Hillary Clinton and Secretary of Defense Robert Gates will meet their South Korean counterparts on Wednesday. At the top of the agenda is how to respond to the sinking of South Korea's warship. A joint declaration is expected to be announced after the talks.
Clinton and Gates will also visit the De-militarized Zone, which divides the DPRK and South Korea. The US and South Korea, say the DPRK must be held accountable for the sinking of the Cheonan. But, has denied any involvement whatsoever.
Editor:Du Xiaodan |Source: CNTV.cn