Watch Video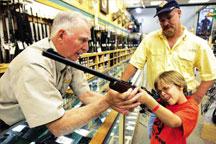 Play Video
A legal loophole in the US state of Texas will allow licensed gun owners to take their weapons into government houses...Not only that..but they'll ALSO be allowed to bypass metal detectors AND walk straight in via EXPRESS lane.
Regular visitors to the Capitol government building in Austin, Texas, like lobbyists, lawyers and journalists, are all rushing to get permits to carry guns inside.
It's where legislators already often carry pistols in their boots or purses or keep them in their desks.
To non gun-toting Texans, this policy might seem a bit strange.
Prof. Jim Henson, University of Texas, said, "I think the particular policy of fast tracking people with fire arms on the face of it seems a little weird to folks, I mean. But this is Texas."
In order to bypass metal detectors and long lines at the Capitol building's entrance, an express lane has been set-up for those with weapons. All they need to hold is a valid permit
There's now a frenzy for people to get trained and licensed to carry a firearm, especially before the legislative session begins in January.
Texas law allows people to carry a weapon if they have a permit and as long as the gun is concealed.
Editor:Du Xiaodan |Source: CNTV.cn