Watch Video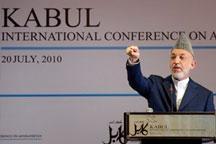 Play Video
Afghan President Hamid Karzai has reaffirmed his government's commitment to take charge of the country's security by end of 2014. He also pleaded with former Al-Qaeda insurgents to join the government's peace and re-integration program. Tamara Aqrabawe reports from Kabul.
Under tight security in the Afghan capital Kabul, the international Kabul conference has set out an agenda for Afghanistan's future. Around 70 nation delegates have welcomed the Afghan government proposal for good governance and power handover from the ATO troops to the Afghan security forces.
Hamid Karzai said, "The peace jirga which voiced the unanimous desire of the Afghan people for peace identified poor governance as marked by the abuse of authority as one of the causes of instability in our country."
Though President Karzai was expected to elaborate on the power transition plan, he focused on municipal services delivery and fighting corruption. He asked the United Nations to design one program for Afghanistan and pledged to improve the government financial management and tax collection.
Wahid Omar, Afghan Government Spokesperson, said, "We had problems in reaching some parts of the country and this is caused some of the problems we have now, the Afghan government has been taking more seriously its local governance policy and we hired recently local governors and deputies based on merit."
Secretary of State Hillary Clinton asked the Afghan government to be accountable for its international partners and explain how the aid money is spent.