Watch Video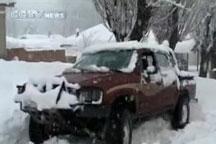 Play Video
A cold snap has swept across most parts of South America. Argentina, Peru, Chile and Bolivia have all been hit by freezing temperatures and heavy snowfalls during the past week.
At least 28 people died in Argentina, 16 of them from hypothermia. Widespread snowfalls have enveloped the country, blocking highways and suspending schools.
Warmer weather forecast to break the cold temperatures, but meteorological departments warned a quick return to cold conditions is also possible.
Temperatures have dropped to minus-22 degrees Celsius in south Peru, freezing livestock and destroying farmland.
While in Chile, farmers are also suffering from great losses where 5 percent of corps were affected.
Alfrdo Moraga, Chilean Farmer, said, "We mostly lost our lettuce crops, which now can't be sold."
Hospitals have been filled with patients, mostly children, stricken with respiratory illnesses. Deaths have been reported among those most vulnerable.
The extreme weather has claimed 18 lives in Bolivia, where another cold wave is forecast over the coming days.
Paraguay and Uruguay also failed to escape the cold snap. Twelve people have died and homeless people have taken refuge in temporary shelters.
Meteorologists predict the mercury could dip below 10 degrees Celsius over the next five days.
Editor:Zhang Pengfei |Source: CNTV.CN