Watch Video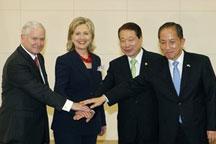 Play Video
US Secretary of State Hillary Clinton and Secretary of Defense Robert Gates have met with South Korean Foreign Minister Yu Myung-hwan and Defense Minister Kim Tae-young in Seoul.
At a joint press conference on Wednesday afternoon, Clinton warned the DPRK of serious consequences if it carried out any more attacks against Seoul. She also called on Pyongyang to abandon its pursuit of nuclear arms.
The press conference came after Clinton and Gates visited the Demilitarized Zone that divides the Korean peninsula. Nearly two million troops are located on either side of the 245-kilometer long border. Clinton and Gates' highly symbolic visit is to demonstrate what Washington calls "steady commitment" for Seoul in its latest standoff with the DPRK.
The visit comes amid heightened tensions in the peninsula following the sinking of a South Korean warship in March. Analysts say South Korea and the US have tried to put on a united front to present a message to the DPRK that it will not be business as usual.
Britain could withdraw troops from Afghanistan troops next year
British Prime Minister David Cameron has said he could begin withdrawing troops from Afghanistan as early as next year. He hinted at the move in an interview with the BBC.
Cameron said troops will arrive home as soon as Afghan authorities can take control of districts and provinces. But he added that the transition should be based on how well the security situation is processing.
Cameron discussed the Afghan war and exit strategies with US President Barack Obama on Tuesday in his first visit to the White House as PM.
Britain aims to complete its troop withdrawal over five years, while the US hopes to start bringing soldiers home from July next year.
Editor:Zhang Pengfei |Source: CNTV.CN