Watch Video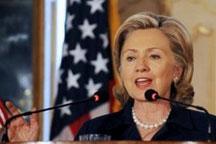 Play Video
US Secretary of State Hillary Clinton and Secretary of Defense Robert Gates have held talks in Seoul with South Korean Foreign Minister Yu myung-hwan and Defense Minister Kim Tae-young. At a news conference following the meeting, Clinton announced new sanctions against the DPRK.
US Secretary of State Hillary Clinton arrived in South Korea on Wednesday for talks focusing on the DPRK, and to make a highly symbolic visit to the demilitarized zone dividing the peninsula.
She was joined by US Defense Secretary Robert Gates, who is on a three-day visit to the country.
Nearly two million troops are located on either side of the 245-kilometer long border.
Following the DMZ visit, Clinton and Gates met South Korean foreign minister Yu Myung-hwan and defence mnister Kim Tae-young.
Top diplomats and defense officials from both countries warn of "serious consequences" if there's further provocation by the Democratic People's Republic of Korea.
After the talks Clinton told reporters the U.S. will introduce new "country-specific" sanctions against the DPRK's procurement of nuclear materials.
Clinton said, "Today I'm announcing a series of measures to increase our ability to prevent North Korea's proliferation, to halt their illicit activities that help fund their weapons programs and to discourage further provocative actions. First, we will implement new countries specific sanctions aimed and North Korea's sale and procurement of arms and related material. And the procurement of luxury goods and other illicit activities."
Related stories