Watch Video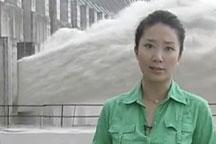 Play Video
The world's largest hydropower station, the Three Gorges Dam, has passed its first major flood control test. Tuesday marked the biggest gush to the dam since it began operation last year. CCTV reporter Wang Mangmang finds out how the dam tamed the deluge.
Water flowing into the dam eased slightly to 67-thousand cubic meters, down from 70-thousand cubic meters.
The discharge volume remains at 40,000 cubic meters a second. That means the dam has blocked over 40 percent of upstream water and prevented severe flooding in the Yangtze's lower reaches.
Flood control authorities believe the dam has made a huge difference.
Yuan Jie, Director, Three Gorges Dispatching Center, said, "Without the dam, thousands of soldiers and rescuers would have been needed to fight the floods. The dam has effectively relieved pressure at the Jing River, which is crucial for the safety of lower reaches."
The Three Gorges Reservoir has stored about 7.6 billion cubic meters of water, while its maximum is 22 billion. That means the current flood takes only less than a third of the reservoir's capacity.
The water level currently stands at 152 meters. The dam's maximum capacity is 175 meters.
The dam has 23 discharge gates, but only nine have been opened to relieve the flood peak.
Yuan Jie said, "The dam can do very little to affect the upper reaches. But in the lower reaches, the closer regions to the dam will benefit most."
The flood peak may have gone, but the dam is bracing for more challenges ahead this flood season.
Wang Mangmang said, "Even though this flood peak has exceeded previous records set in 1998, the duration and total volume is less. Heavy downpours are still expected from the upper reaches, and more floods are continuing to merge. It's likely to further test to the Three Gorges Dam over the next two or three days."
[Wang Mangmang Reports] Role of Three Gorges Dam on flood control
For more information on the Three Gorges Dam and the rising water levels on the Yangtze River, we're now joined by our reporter Wang Mangmang, who is at the Three Gorges Dam in Hubei Province.
Full Story>>
Editor:Du Xiaodan |Source: CNTV.cn