Watch Video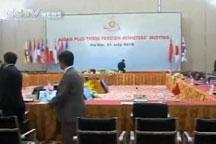 Play Video
ASEAN Foreign Ministers and their counterparts from China, Japan, and South Korea have met in Hanoi, Vietnam to discuss regional economic and security cooperation.
The participants hope to bring the six-party talks back to life to ease tensions on the Korean Peninsula.
The ASEAN PLUS THREE Foreign Ministerial meeting in the Vietnamese capital Hanoi.
And after the pomp of the opening ceremony, it was down to work.
The grand conference center looked deserted as the delegates started with a round of bilateral meetings.
For hosts Vietnam, there was an important guest.
A warm welcome for Chinese Foreign Minister Yang Jiechi.
Although not part of ASEAN, China is now one of the most influential nations on the regional group.
The Chinese delegation was in demand. Yang Jiechi was keen to stress to everyone he met, including Singapore's Foreign Minister, that trading relations with ASEAN partners are on the right track.
Yang Jiechi, Chinese Foreign Minister, said, "China's relationship with Singapore is on the right track. The real discussions were going on behind closed doors."
China has been responsible for much growth in ASEAN.
Many global brands are investing in Asia with an eye to a free trading bloc.
And although the barriers are coming down slowly, everyone seems keen to move forward.
As the ministers came back together later in the day, security issues came to the fore.
A delegation from the DPRK has arrived in Hanoi. The ASEAN Foreign Ministers have expressed their grave concern over the sinking of a South Korean ship.
And 3 ASEAN Foreign Ministers will visit the DPRK.
Larry Jagan, Asia-Pacific Region Analyst, said, "I think China is very happy to see ASEAN taking something of a lead, and 6 party talks may well come from the visit of 3 ASEAN foreign ministers to Pyongyang in the very near future."
The ASEAN conference will continue in Vietnam for two more days. The headlines are likely to be dominated by the DPRK delegation's attendance, and the new US sanctions against Pyongyang.
Editor:Zhang Pengfei |Source: CNTV.CN