Watch Video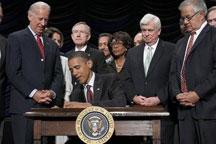 Play Video
US President Barack Obama signed the financial regulation reform bill into law on Wednesday, following the Senate's approval last week.
The US administratrion expect the law will end many of the practices that sent the US economy into the worst recession since the 1930s.
President Barack Obama made the financial reform bill law with the stroke of a pen at a signing ceremony at the White House.
It's the biggest financial regulatory overhaul since the Great Depression.
The bill gives the government new powers to break up companies that threaten the economy, puts more light on the financial markets that once escaped the oversight of regulators, and creates a new agency to guard consumers in their financial transactions.
Barack Obama, US President, said, "And with this law, ordinary investors - like seniors and folks saving for retirement - will be able to receive more information about the costs and risks of mutual funds and other investment products, so that they can better make financial decisions that work for them. All told, these reforms represent the strongest consumer financial protections in history. In history."
The bill targets the kind of Wall Street risk-taking behaviors that helped trigger a global financial meltdown.
Barack Obama, US President, said, "Because of this law, the American people will never again be asked to foot the bill for Wall Street's mistakes. There will be no more taxpayer-funded bailouts."
The signing of the bill into law is just the first bold step to implement the financial reform in the United States.
The overall reform could take years to implement, with hundreds of new rules to be written and dozens of authorities to be transferred between government agencies.
Editor:Zhang Pengfei |Source: CNTV.CN