Watch Video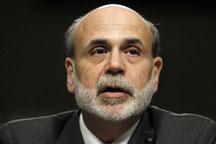 Play Video
US Federal Reserve Chairman Ben Bernanke has told the Senate Banking Committee that the US economic outlook remains "unusually uncertain." But, he says the central bank is ready to take action when the economy worsens.
Federal Reserve Chairman Ben Bernanke, speaking to a Senate panel expressed concerns about the U.S. economy - and said the Fed remains prepared to take action if needed.
Ben Bernanke, US Federal Reserve Chairman, said, "Even as the Federal Reserve continues prudent planning for the ultimate withdrawal of monetary policy accommodation, we also recognize that the economic outlook remains unusually uncertain".
He added that a weak job market would likely remain a drag on consumer spending, and it will take a long time to restore the jobs lost in the last couple of years.
He did however say policymakers still believe the US economy is on a path to recovery.
Ben Bernanke, US Federal Reserve Chairman, said, "Although fiscal policy and inventory restocking will likely be providing less impetus to the recovery than they have in recent quarters, rising demand from households and businesses should help sustain growth. In particular, real consumer spending appears to have expanded at about a 2.5 percent annual rate in the first half of this year."
Overall the comments reinforced the perception the US central bank will not raise rates at least until the second half of next year.
Editor:Zhang Pengfei |Source: CNTV.CN