Watch Video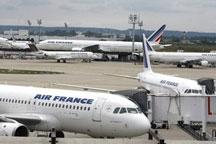 Play Video
Airlines have slashed flights in France, as air traffic controllers held a strike to protest a plan to unify European skies.
The country's civil aviation authority has asked airlines to cancel, one out of two flights at Orly airport, south of the French capital, and one out of five flights at Charles de Gaulle, the main Paris airport.
Passengers have been held back in France, wondering when and IF they can fly.
Passengers at Paris's Orly Airport in France wait to find out if they can fly.
Up to half the flights from Paris airports have been cancelled - hit by a major air traffic controllers' strike.
It is peak summer holiday season and the strike has badly affected holiday-makers.
Passenger Marie-Therese Bour fears long delays could make her ill:.
Marie-Therese Bour, Passenger, said, "It's a problem because I wanted to go back to Strasbourg and in addition I have health problems so I can't stay here too long, otherwise I won't feel well. So I want to know because they told me there might be something at noon, but it's not for sure."
Air controllers are protesting plans to merge the air traffic control operations of France, Germany, Switzerland and the Benelux countries.
Transport officials say the plan would create a safer, more efficient system and would cut flight times by 10 per cent.
But unions worry the merger will lead to massive job cuts.
Oliver Joffin is an air traffic controller.
Oliver Joffin, Air Traffic Controller with CGT Union, said, "If it goes through, this merger will entail job cuts, major job cuts and entire departments will shutdown. It has been clearly identified in international studies that have been carried out so far that there are alternative solutions to put these European changes in place. We don't contest those, but we are only asking that these alternative solutions be taken into account and applied. And then there will be no opposition from personnel, rather there will be support."
Most of the cancellations were announced well ahead of time so there was relatively little chaos at the airports.
Most passengers had already been warned .
Elsewhere in France between 10 and 25 per cent of flights from provincial airports were either cancelled or delayed.
Editor:Zhang Pengfei |Source: CNTV.CN