Watch Video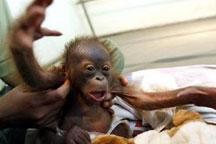 Play Video
Brain training games on all sorts of touch-screen mobile devices are very popular nowadays. But now primates at Kyoto Zoo are proving that you don't have to be human to possess cognitive skills. And humans watch out, they have been known to put up some pretty high scores.
Can you believe what this chimpanzee is doing? He memorizes the patterns of the numbers on the touch-screen, and clicks each number in proper sequence after they are transformed into blocks.
They can also memorize the correct Chinese character for each color.
This is the brain testing project that a group of researchers from Kyoto University's Wildlife Research Center are conducting at the city's zoo.
Dr. Tanaka Masayuki explains that although the research follows methods developed at the university's Primate Research Institute, work being conducted at the zoo does differ.
Dr. Tanaka Masayuki, Associate Professor, Kyoto University's Wildlife Research Center, said, "Through this methodology however, we are also looking at the chimpanzee's social intelligence. Exactly when do they take turns to use the panels and what motivates the timing of a change. Because this is a zoo, the facility contains a variety of species. This enables us to perform the same study on a number of different species within the same facility."
So, what kind of results is the research producing? Do chimpanzees perform better than mandrills or gibbons?
Rather than demonstrating differences in the cognitive capacity existing between species, Dr. Tanaka believes that the study suggests several differences in the way different species interact.
One example would be the tension that the test provokes between the zoo's resident mandrills that does not appear to exist between the chimpanzees or gibbons.
Mangoro, the alpha male and father to the zoo's two young mandrills, actively discourages his children from participating in the exercises.
In contrast, the younger mandrills have shown far greater interest and aptitude for the tests than their father.
The zoo is very pleased to have the opportunity in which the animals can demonstrate their ability and the mental capacity that they possess.
Editor:Zhang Pengfei |Source: CNTV.CN