Watch Video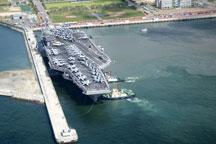 Play Video
The US and South Korea plan to have a four-day joint military exercise off South Korea's eastern coast later this month. China has expressed concern over the exercise as it warns the drills could worsen the already tense situation on the peninsular.
Dubbed "Invincible Spirit", the US-South Korea joint maneuvers will be held from July 25th to 28th in the Japan Sea.
The two sides plan to stage another nine drills in this area in the future.
The USS George Washington, the United States's only permanent, forward-deployed aircraft carrier will participate in the drills.
While the US and South Korea are to demonstrate military might, one Chinese analyst says the joint military drill may unsettle the region.
Da Wei, research fellow of China Inst. of Contemporary Int'l Rel., said, "The possibility of military clashes and conflicts incurred by the military exercises is not very high, but it will put North Korea's judgment to South Korea into a negative trend.This is unhelpful to future peace and stability in the region."
To the US and South Korea, the exercises are a response to the deadly sinking of a South Korean warship in March, an incident they blame on the Democratic People's Republic of Korea's alleged torpedo attack. The DPRK denies such charges.
To shore up support for South Korea, U.S. Secretary of State Hillary Clinton and Defense Secretary Robert Gates visited the demilitarized zone on July 21st. Over fifty years since the Korean War, the DPRK and South Korea are still technically at war. And the DMZ is seen as one of the last relics of the Cold War.
Da Wei said, "Recent development in this region shows that there is a possibility that the security structure may go backward into a cold war structure... We don't want to seen two camps in this region, the US, South Korea and Japan in one camp, China, North Korea, Russia in other camp. This is bad for everyone. China doesn't want to see that. This is our deeper concern."
There has been some speculation that China and the DPRK would also conduct a joint military drill. But China has dismissed this as "cold-war mentality."
A Chinese analyst says China will closely watch the development of the issue and make no compromise on its core national interests.
Editor:Zhang Ning |Source: CNTV