Watch Video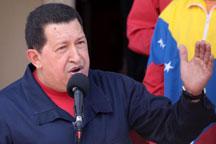 Play Video
Venezuelan President Hugo Chavez says he's cut relations with neighboring Colombia. He made the announcement after Colombia presented the Organization of American States in Washington with photos and maps showing 1,500 Colombian rebels hiding in Venezuelan territory.
Chavez said, "I make the announcement with a heavy heart. We, Venezuela, starting at this moment, are breaking all contact with the Colombian government."
Chavez calls the Colombian accusations a U.S.-inspired "aggression" and says he's ordering "a maximum alert" on his country's border with Colombia. The two Andean neighbors who share a long, porous border have squabbled on and off for years. Chavez cut off trade last year after Colombia leased a military base to the United States.
On July 15th, Colombian Defense Minister, Gabriel Silva Lujan said evidence showed, that Colombian rebel leaders had met in Venezuela, raising tensions again.
Chavez said the next day, if the Colombian government maintained this accusation, he'd cut off relations between the two countries.
Venezuelan President Hugo Chavez speaks during meeting with Argentine soccer coach
and former player Diego Maradona (not pictured) at the Miraflores Palace in Caracas,
capital of Venezuela, July 22, 2010. Chavez on Thursday announced his country broke
off the diplomatic relations with Colombia. "For dignity we do not have other option
but to sever diplomatic ties with Colombia," Chavez said after Colombia presented to
the Organization of American States (OAS) the accusations about the alleged presence
of Colombian guerrilla chiefs in Venezuelan territory. Chavez made the announcement
when he met with Maradona at the Miraflores Palace. (Xinhua)
Editor:Zhang Jingya |Source: CNTV.cn