Watch Video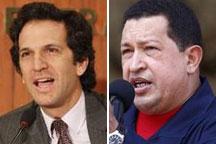 Play Video
Colombian officials say they've detected 87 rebel sites in Venuezuela in the evidence it showed to the Organization of American States. Venezuela denies harboring these rebels and questions. Colombia's intelligence accuracy.
Colombia's Ambassador to the Organization of American States, Luis Alfonso Hoyos, says he has shown a series of photos and videos proving rebels are operating in Venezuela.
The alleged rebels are with the Revolutionary Armed Forces of Colombia, or FARC, living in camps.
Hoyos has demanded Venezuela allow an international commission and journalists to inspect the suspected rebel camp locations.
Luis Alfonso Hoyos, Colombian Ambassador to OAS, said, "We hope that the government of Venezuela finally understands that it is the duty of all governments to cooperate in the fight against gangs that are dedicated to drug trafficking, kidnapping and extortion."
Hoyos says he estimates there are about 1,500 rebels currently hiding out in Venezuela.
However, Venezuela's envoy to the OAS says the photographs don't provide any solid evidence of a guerrilla presence in Venezuela.
Roy Chaderton, Venezuelan Ambassador to OAS, said, "This media campaign with its goal of disparaging the Democratic Revolutionary process is designed to fit into a project for a military invasion of Venezuela. And this they will certainly count on the support of the Pentagon."
Colombian authorities say FARC rebels carry out cross-border attacks. Venezuelan President Hugo Chavez insists that his country is doing everything it can to fight rebels.
Editor:Zhang Jingya |Source: CNTV.cn