Watch Video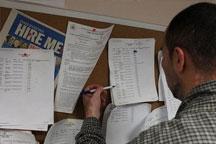 Play Video
Faced with a second day of questioning, US Fed Reserve Chairman Ben Bernanke spoke to Congress Thursday. He said, the future of the US economic recovery remained uncertain, and that dealing with the high unemployment rate should be a top priority.
In day two of Federal Reserve Chairman Ben Bernanke's semi-annual update to Congress the focus seemed to be on the unemployment rate and what the Fed could do if it stays high.
Bernanke said, "We are ready and will act if the economy does not continue to improve, if we don't see the kind of improvements in the labor market that we are hoping for and expecting."
But lawmakers on both sides of the aisle, some who are facing re-election as the unemployment rate stands at 9-1/2 percent, called for more action - now.
Democratic Congressman David Scott.
Scott said, "Where is that energy, where is that urgency to get jobs for the American people?"
Bernanke also said, "First, congressman, I absolutely agree with you that unemployment is the most important problem we have right now, and we take the dual mandate extremely seriously. I would respectively disagree that we haven't been doing anything or not been urgent. We have pushed monetary stimulation to the highest point in American history. We have zero interest rates, we have tripled our balance sheets, we've taken very strong steps."
Bernanke does not expect the economy to slide back into recession, but says the Fed has the tools to step in - if it does.
Related stories
Editor:Zhang Jingya |Source: CNTV.cn