Watch Video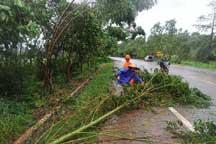 Play Video
By Friday morning, Typhoon Chanthu which has killed 2 people in Guangdong Province, has moved north to Nanning, the capital of the Guangxi Zhuang Autonomous Region.
The typhoon has now been downgraded to a tropical storm. Its rain is unlikely to increase, and so far no streets in Nanning have been submerged under water.
However in the city of Yulin, rainfall has reached to as much as 300 millimeters.
According to Guangxi Meteorologist Bureau, in the next two days, winds will increase from a grade 7 to a grade 9 in southeastern Guangxi, travelling around 24 meters per second. Rainstorms are expected to continue until next Monday.
Related stories