Watch Video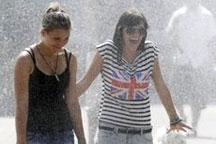 Play Video
Parts of Europe have been sweltering from a lingering heat wave, which sparked forest fires in Russia and forced authorities to issue heat warnings in Italy.
Fire raged across thousands of hectares of forests and peat bogs in the regions east and north of Moscow on Thursday.
Firefighters scrambled to tackle blazes in the Gus-Khrustalny district.
A local official said the fires were under control, and there were no threats to local towns or villages.
Nikolai Grushko, Chief of Gus-Khrustalny District Admin., said, "The fire poses no danger to populated settlements, which is the most important thing. We can speedily coordinate and relocate resources where they are needed."
In eastern Siberia - where winter temperatures drop to minus 60 degrees Celsius - temperatures soared to almost 30 degrees Celsius.
Locals flocked to cool down at the Bulus glacier where the temperature on the ice measured 4 degrees Celsius.
Meanwhile in Rome, authorities issued a heat warning on Thursday, as tourists tried to cool off in the city's Trevi fountain.
Temperatures had already reached 30 degrees Celsius by 9 am local time on Thursday morning.
Graham, British Tourist, said, hat, sun cream, sun glasses and shade. Drink plenty. You will be all right."
Tony, US Tourist, said, "Just like back home. It is very hot, but it is nice. It is nice to walk around. It is very good."
Weather forecasters predict a cool front to ease the heat this weekend, but the Italian authorities have maintained their red heat alert for Rome, Genoa and Perugia.
Editor:Zhang Pengfei |Source: CNTV.CN