Watch Video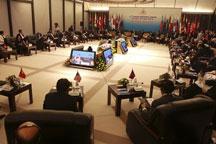 Play Video
The 17th ASEAN Regional Forum, or A-R-F, has concluded in Hanoi. Foreign ministers and representatives of 27 A-R-F members discussed security issues and strengthening cooperation in the Asia-Pacific region.
The annual A-R-F is the principal channel for multilateral security dialogue and cooperation in the Asia-Pacific region.
With the heightened tension on the Korean Peninsula following a South Korean warship sinking in March, this year's A-R-F drew attention of all participants of the Six-Party Talks.
Chinese Foreign Minister, Yang Jiechi, DPRK Foreign Minister, Pak Ui Chun, and US Secretary of State Hillary Clinton attended the forum.
Delegates were united in calling for the resumption of Six-Party Talks.
Anifan Aman, Malaysian Foreign Minister, said, "We have to look at it objectively, because what we want is a peaceful and stable Korean Peninsula, because it somehow will affect us directly in trade and other aspects so what we want to see is a peaceful solution and of course I think this can only be achieved if you sit down and talk together, I don't think we can achieve this in a military formula so the best format is still to return to the Six Party talks."
Delegates at this year's meeting are also expected to adopt the Hanoi Plan of Action to implement the A-R-F Vision Statement by 2020.
The statement contains policy guidance for the A-R-F to further develop and contribute to peace and security in the region.
Editor:Zhang Pengfei |Source: CNTV.CN