Watch Video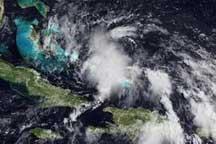 Play Video
Tropical Storm Bonnie is set to hit the Gulf of Mexico and the site of BP's deepwater oil spill after passing southern Florida.
The rough weather could delay by another 12 days the push to plug the ruptured oil well.
Seas are already choppy in the Gulf of Mexico, with waves up to 1.5 meters high.
Fast-moving Bonnie is on track to pick up strength as it crosses the Gulf, reaching the site of the oil spill by Sunday.
Engineers have prepared to abandon their positions around the broken oil well.
Some ships are heading to shore, and a number of oil rigs have been evacuated.
Ships carrying robotic submarines watching the well will be the last to leave - likely for about two days - and the first to return.
Officials say they are closely monitoring the situation.
Thad Allen, Incident Commander of US Homeland Security Dept., said, "We will leave hydrophones at the base of the well to be able to monitor any anomalies that could develop. We've also coordinated with Admiral Zukunpt, the local unified area commander for overhead sorties by Coast Guard aircraft to make sure if there's any leakage or seepage to the surface, we'll see that. Also coordinating with National Geospatial Intelligence agency for satellite assets to do surveillance."
There are still about 1.6 million barrels of oil sloshing around in the Gulf.
The collision of a tropical storm with a giant oil spill is an unprecedented event, and experts predict both positive and negative impacts.
Thad Allen, Incident Commander of US Homeland Security Dept., said, "Sometimes the increased activity on the surface, wind and wave activity, can actually help the emulsification of the oil and the distribution and bio-degradation of the oil. On the other hand, you have the chance to have a storm surge drive that up on the beach and marsh areas where it would not have been driven otherwise. So, we're mindful that those are two opposite consequences."
Scientists say even a severe storm should not affect the plug, nearly 1.6 kilometers beneath the ocean surface.
Editor:Zhang Pengfei |Source: CNTV.CN