Watch Video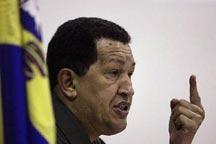 Play Video
Venezuelan President Hugo Chavez has warned Colombia against provoking conflict as relations between the two countries continue to deteriorate.
Chavez said he and his top generals are constantly evaluating the situation along the border to make sure they don't "fall into provocation." Chavez earlier this week announced he was breaking off diplomatic relations with Colombia and placed his military on alert, accusing the Colombian government of fabricating evidence showing Colombian rebel bases inside Venezuela.
Venezuelan President Hugo Chavez said, "We can not underestimate what is happening. The last thing that could happen would be a war. Imagine a war between Colombia and Venezuela. That would be something to cry over for a hundred years. But you understand that if we are attacked, we aren't going to stay with our arms crossed."
The diplomatic argument over the disputed presence of Colombian rebels in Venezuela has worsened just as Colombian President Alvaro Uribe prepares to leave office. President-elect Juan Manuel Santos, however, has stressed the importance of mending relations with Venezuela. Chavez has raised the possibility that relations could be restored under Santos.
Related stories
Editor:Zhang Ning |Source: CNTV