Watch Video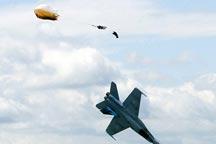 Play Video
A pilot has made a miraculous escape from a plane crash during a training run for a weekend international air show in Alberta, Canada.
Captain Brain Bews was practicing in a CF-18 hornet jet over Lethbridge County Airport when the accident occurred. Witnesses say they saw the jet going through its maneuvers, before plummeting to the ground where it exploded in a big ball of fire and smoke.
Some said the pilot narrowly missed being hit by the plane as he ejected. Amazingly he only suffered from a sore back and scratched arms. No-one on the ground was injured either.
Related stories
Editor:Zhang Ning |Source: CNTV