Watch Video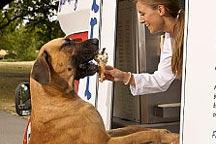 Play Video
At the Boomerang pets party in North London's Regent's Park, people are queuing for a new kind of ice cream in the heat. But the mouth-watering treat is not for them, it's for their beloved pets, man's best friend.
Soon after the opening of the van, a line of dogs, most of whom had brought their owners, had lined up waiting to be served.
The ice cream vendors in the K99 ice cream van say it's the first attempt to market an ice cream made exclusively for dogs.
Ice cream vendor Lauren Holness said, "I have tried the biscuit one, but I have not had the courage to try the meat one yet. For some reason I don't think it is a good one for me. Unfortunately."
The K99 ice cream van serves two flavors of dog ice cream; Dog Eat Hog World, which is a gammon and chicken sorbet, and Canine Cookie Crunch, which is a mixture of dog biscuits and ice cream.
Both are made from soya milk and have, according to the organizers, been developed by animal nutritionists and are perfectly healthy for all dogs to eat.
Dog owner Robin Davies said, "Well, he likes the ice cream we eat normally, so I think having his own special flavor is an extra special treat, so he really likes it."
The organizers of the K99 ice cream van are asking people to donate 1.5 US dollars per ice cream towards local dog rescue organizations and other emergency services involved in locating lost or missing persons.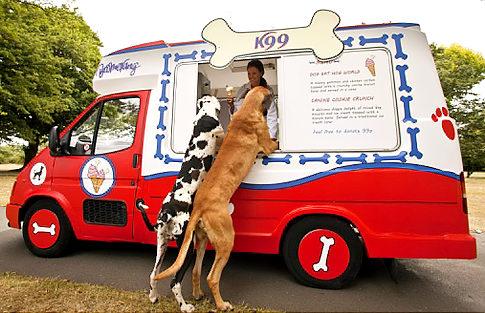 Two dogs enjoy one of the tasty K99 frozen treats from the world's first ice cream
van for dogsWorld's first ice cream van for dogs in London.
Editor:Zhang Ning |Source: CNTV