Watch Video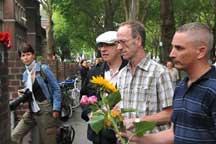 Play Video
Organizers of the German Love Parade say they are ending the annual event after a mass panic caused a deadly stampede killing 19 people and injuring hundreds of others.
Germans woke up in shock to the news that the annual Love Parade festival had turned deadly.
The accident happened as a large crowd streamed into an already jammed entry tunnel.
It was a chaotic scene, with scores of bodies and injured lying on the ground.
Rescue workers carried away the injured while techno music thundered in the background.
German officials visited the wounded at local hospitals and said an investigation is now underway into the causes of the stampede.
The founder of the original Love Parade, Berlin DJ "Dr. Motte", blames the organizers of the event for the tragedy and says the techno-music festival, which he abandoned in 2006, is now only out to make money.
Matthias Roeingh, Founder, Love Parede, said, "It's really a sad thing to see that people only want to make money out of the whole thing. They don't give people enough space to be there and celebrate the whole thing and it's all like squeezed together in a very small street and in a tunnel and then it was collapsing. I must say, it's really tragic to me and I must say, the organizers are guilty actually."
Event organizers now say the festival will never take place again.
Rainer Schaller, Love Parade Organizer, said, "The Love Parade was always a peaceful event and happy party. But now it will always be overshadowed by yesterday's tragic events. Out of respect for the victims, their friends and families, the event will no longer take place. This means the end of the Love Parade."
The Love Parade, which had been called the world's largest techno dance party, was created in Berlin in 1989 as a demonstration for peace, tolerance and understanding through love and music.
Related stories